Overcomer Covenant Church – Auburn, WA
January 24, 2018 @ 7:00 pm

-

8:30 pm
Creation Presentation with Dr. Rob Carter from Creation Ministries International at Overcomer Covenant Church in Auburn, WA.
WHEN: January 24, 2018
7:00 pm – 8:30 pm "Evolution's Achilles Heel"
WHERE: Overcomer Covenant Church
33415 Military Rd S
Auburn, WA 98001
CONTACT: Bruce Barton
253-931-8286
https://www.apologeticsforum.org/event/evolutions-achilles-heels-dr-rob-carter-2/
---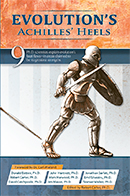 Description: This is the title of CMI's groundbreaking new book and documentary. Unlike anything CMI has ever done before, we interviewed 15 PhD scientists and asked them to list the fatal flaws of evolution, according to their own areas of expertise. Instead of our traditional approach of defending the Bible, this time we put the evolutionists on the defensive and make them answer the most difficult questions we could think of. In this introductory talk, Dr. Carter will summarize the major issues for the evolutionist three critical areas: natural selection, genetics, and the origin of life. This is powerful information that you do not want to miss!