Second Baptist Church – Clinton, TN
November 9, 2014
Free
Dr. Henry M. Morris III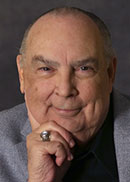 will be presenting on creation during the morning service at 10:30 a.m. at Second Baptist Church in Clinton, TN.
For more information, please call the church at (865) 457-2046.
Dr. Henry M. Morris III holds four earned degrees, including a D.Min. from Luther Rice Seminary and the Presidents and Key Executives MBA from Pepperdine University. A former college professor, administrator, business executive, and senior pastor, Dr. Morris is an articulate and passionate speaker frequently invited to address church congregations, college assemblies, and national conferences. The eldest son of ICR's founder, Dr. Morris has served for many years in conference and writing ministry. His love for the Word of God and passion for Christian maturity, coupled with God's gift of teaching, have given Dr. Morris a broad and effective ministry over the years.