Apologetics Forum – Alrington, WA
September 28, 2018 @ 7:00 pm

-

8:30 pm
Creation Presentation with Dr. Andy McIntosh at the Apologetics Forum in Alrington, WA.
WHEN: September 28, 2018
7:00 PM – The Intricacies of Flight
WHERE: Atonement Free Lutheran Church
6905 172nd St NE
Arlington, WA 98223
CONTACT: Heinz Lycklama
425-501-5075
heinz@osta.com
DETAILS: https://www.apologeticsforum.org/event/the-intricacies-of-flight-dr-andy-mcintosh/
---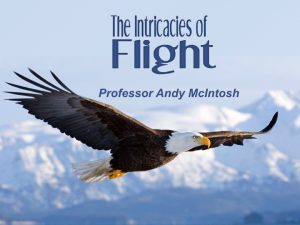 We look at the aerodynamics of birds, and show the awe and wonder from the fascinating detail of flight in the natural world. The feathers of birds have to be positioned in exactly the right location on the wing from front to back and from close to the body to tip, but also edge on forming an aerofoil shape. The remarkable agility of both fast birds of prey and humming bird aerobatic marvels show the necessity for a number of parallel mechanisms all to be in place at the same time to enable flight to work in birds. giving the lie to the supposed evolution of such creatures from more primitive ancestors. This has technical parts but is understood by all ages because it is so visual. It lends itself to being a good platform for evangelism. Many have found this to be a powerful talk, because it brings a sense of awe and wonder from the fascinating detail in flight in the natural world. It naturally leads into the Gospel.