Calvary Chapel – Marysville, WA
February 24, 2019 @ 6:00 pm

-

7:30 pm
Creation Presentation with Dr. Jonathan Sarfati from Creation Ministries International at Calvary Chapel in Marysville, WA.
WHEN: February 24, 2019
6:00 – 7:30 pm
WHERE: Calvary Chapel
1224b Cedar Ave.
Marysville, WA 98270
CONTACT: Heinz Lycklama
425-501-5075
heinz@osta.com
DETAILS: http://www.apologeticsforum.org/event/the-christian-roots-of-science-dr-jonathan-sarfati/ 
---
The Christian Roots of Science & Busting Evolutionary Myths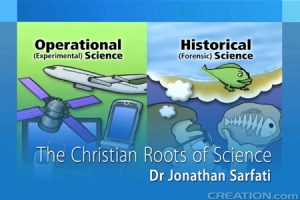 Why did science flourish in the West, and only the West? The biblical worldview provided the presuppositions that allowed science to flourish while it was stillborn in other places such as Greece and China. Evolutionists deny this biblical foundation for science by accusing Christianity of superstitions that held science back. Jonathan deftly busts the myth of the 'Dark Ages'—a time marked by many scientific advances. He also busts the myths of Galileo, belief in a flat earth, and more.